I approach body and movement as site for learning, play, pain, joy, pleasure, regeneration, and coming home. By coming home, we can then build relationships that are kind and nourishing. In this way, working through our relationship with our bodies and developing a personal movement practice is a workbook towards building a thriving community.
TRAINING + TEACHERS
the people + influences informing my practice
House :: Sekou Heru, Kim Holmes
Rhythmetrics :: Sekou Heru
Jazz + Funk :: Lionel Araya
Body Awareness + Physiology Fundamentals :: Teo Yong Seng, Sekou Heru
Butoh-adjacent practices :: Yumiko Yoshioka (Body Resonance), Mari Osanai (Ngouchi Gymnastics)
Yoga :: Tirusula Yoga, Carmen Aguilar/cYoga [RYT200]
Bike commuting :: My own damn legs
Contact Improv :: Paul Singh, Margaret Paek, Elise Knudson, Yongwei
BODY ALIGNMENT + OFFERINGS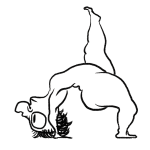 get in touch to book a session.
MOVEMENT AS HOME
2017
video & editing: sal seah
movement: denise shu mei
Draft of a Study of Emerson
2015
based on sal seah's 'Emerson & Greta'
movement: denise shu mei
music: Alt-J
where is to is from
2014
original music : one hello world "where has all the happiness gone"
concept & movement: denise shu mei
video & editing: Raindogg
p.a.: sal seah
6.5 Minute Workout Video
2014
created for 7 Minute Workout Comedy (BK Comedy Sketch Group)
written, directed & edited By: Sal Seah
choreography: Denise Shu Mei
original concept: liew aiqing, denise shu mei, sal seah
performed by: david jacobs, sal seah, zach herwitz
Before and before and before and
2011–Part of ROUSE
choreography: lim yizhen, denise shu mei
performers: lim yizhen, denise shu mei, rachel effendy
music: Before and Again, Akron/Family